Haematology
Introduction:
Hematology is a branch of medicine concerning the study of blood, the blood-forming organs, and blood diseases. The word "heme" comes from the Greek for blood. A Hematologist deals with the diagnosis, treatment and overall management of people with blood disorders ranging from anemia to blood cancer.
Concerns:
The problems of blood related disorders are increasing day by day. There are growing concern regarding increasing burden of haematological diseases and lack of specialist treatment for them.
High prevalence of anaemia of different aetiology, specially nutritional anaemia
Increasing number of cases and carriers of Thalassemia, sickle cell anaemia and other haemoglobinopathies.
Serious deficiency of specialized infrastructure for early and rapid diagnosis and proper treatment of haematological malignancies.
The miniscule no. of Bone Marrow Transplantation (BMT) facilities in Eastern India
Lack of diagnostic and therapeutic facilities for haemophilia patients.
Aim:
Keeping these concerns in mind, the Department of Haematology, The Mission Hospital has been developed to provide state-of-the-art management for haematological disorders and conduct advanced research in the discipline.
The Department of Haematology provides comprehensive clinical and laboratory services to all patients with blood diseases and strives to enhance both these aspects through research and development.
Services:
Hematology services are available on the outpatient basis as well as in day care and inpatient. All patients are treated in accordance with advanced and up-to-date protocol based management plan after detailed investigations. Department has specialized laboratories, which perform extensive state of the art investigations for leukemias, lymphoma, myeloma, bleeding and coagulation disorders, hemoglobinopathies and anemias. The Department is steadily growing in stature and now become synonymous with cutting edge science focusing on blood diseases.
The Department is organised into four integrated divisions. These include:
Clinical Haematology
Diagnostic Haematology
Clinical and Basic Research Programs
Teaching and Education
Clinical Haematology
General Haematology
Nutritional and haemolytic anaemia
Auto-immune haematological disorders
Primary and secondary marrow failures
Problems arising from transfusion of blood products
Haematological disorders associated with other systemic diseases
Coagulation Disorders
Managing bleeding disorders arising from platelet/clotting factor deficiency, congential or acquired
Haemophilias and Von Willebrand Disease
Diagnosis and management of thrombotic disorders
Haemato-Oncology
Management of patients with haematological malignancies : myeloma, lymphoma and acute and chronic leukemias
Provides routine and specialised haematological investigations
Bone Marrow Transplantation
To be implemented soon
In Patient Treatment
The hematology department provides treatment of leukemias, aplastic anemia, idiopathic thrombocytopenic purpura, lymphomas, myelodysplastic syndrome, hemophilia, multiple myeloma and various other hematological disorders as indoor patients. Both general as well as single occupancy room with isolation and barrier nursing is available for treatment of highly immune-compromised leukemia patients.
Day Care Center
Department has a day care unit to provide different diagnostic and therapeutic services.
Blood transfusion support for patients such as, thalassemia, aplastic anemia and myelodysplastic syndrome
Factor therapy for hemophilia patients,
Platelet support and fresh frozen plasma/ cryoprecipitate for patients with platelet function defects and rare factor deficiencies.
Intravenous chemo-therapy
Intra-thecal chemotherapy for leukemia, myeloma and lymphoma.
Monoclonal antibody therapy,
Growth factor support,
Bone marrow aspirate, biopsies,
Minor procedures like central line placement, removal etc.
Diagnostic Haematology
Laboratory Services
Evaluation of anaemia:
Complete iron profile
Vitamin B 12 and folate level assay
Immune-haematology for complete diagnosis of auto-immune disorders
Haemoglobinopathy screening
Bone marrow aspiration and biopsy
Cytochemistry,
Immune-phenotyping
Cytogenetics assay
PCR for diagnosis of myeloproliferative neoplasm
Coagulation screening
Factor deficiency assay
Inhibitor screening
Complete DIC profile
Immunohistochemistry
Future Services:
Fully HEPA filtered Isolation ward for haematology patients
Dedicated Paediatric Haematology unit
All types of allogenic bone marrow transplant including mismatched and haplo-identical (half matched) transplant
In house CD-34 assay and viability assay
State of the art molecular laboratory including real-time quantitative PCR and Flowcytometry for rapid diagnosis.
Contact us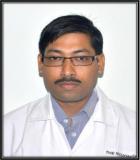 Dr.Dibyendu De
MBBS.MD (General Medicine), DM (Clinical Haematology)
Associate Consultant, Department of Haematology
The Mission Hospital, Durgapur.
Email:
de.dibyendu @gmail.com
LEARN MORE ABOUT US
VISITING US?
All you need to know before visiting Mission Hospital Durgapur
Contact Details
The Mission Hospital
Immon Kalyan Sarani,
Sector IIC Bidhan Nagar,
Durgapur - 713212, Paschim Bardhaman, West Bengal
Phone No.: 8687500500