DIETARY GOALS and Guidelines
DIETARY GOALS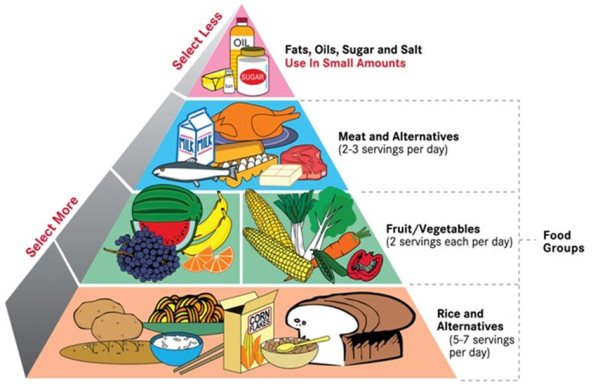 Maintenance of a state of positive health and optimal performance in populations at large by maintaining ideal body weight.
Ensuring adequate nutritional status for pregnant women and lactating mothers.
Improvement of birth weights and promotion of growth of infants, children and adolescents to achieve their full genetic potential.
Achievement of adequacy in all nutrients and prevention of deficiency diseases.
Prevention of chronic diet-related disorders.
Maintenance of the health of the elderly and increasing the life expectancy.
DIETARY GUIDELINES
Right nutritional behavior and dietary choices are needed to achieve dietary goals. The following 15 dietary guidelines provide a broad framework for appropriate action:
Eat variety of foods to ensure a balanced diet.
Ensure provision of extra food and healthcare to pregnant and lactating women.
Promote exclusive breastfeeding for six months and encourage breastfeeding till two years or as long as one can.
Feed home based semi solid foods to the infant after six months.
Ensure adequate and appropriate diets for children and adolescents, both in health and sickness.
Eat plenty of vegetables and fruits.
Ensure moderate use of edible oils and animal foods and very less use of ghee/ butter/ vanaspati.
Avoid overeating to prevent overweight and obesity.
Exercise regularly and be physically active to maintain ideal body weight.
Restrict salt intake to minimum.
Ensure the use of safe and clean foods.
Adopt right pre-cooking processes and appropriate cooking methods.
Drink plenty of water and take beverages in moderation.
Minimize the use of processed foods rich in salt, sugar and fats.
Include micronutrient-rich foods in the diets of elderly people to enable them to be fit and active.
LEARN MORE ABOUT US
VISITING US?
All you need to know before visiting Mission Hospital Durgapur
Contact Details
The Mission Hospital
Immon Kalyan Sarani,
Sector IIC Bidhan Nagar,
Durgapur - 713212, Paschim Bardhaman, West Bengal
Phone No.: 8687500500